Maritime & Transportation Training
Our maritime & transportation training programs range from maritime logistics to DMV-approved motorcycle safety. Tidewater Community College is a 2021 Center of Excellence for Domestic Maritime Workforce Training and Education (CoE).
Does your business or port need its own CDL drivers? We can provide on-site training using your own vehicles or ours. Looking to turn your boating passion into a career? Our Coast Guard-approved course can help you do just that.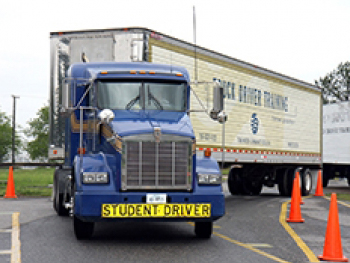 Trucking & transportation
CDL drivers are in high demand in this transportation-centric area. Earn your commercial driver's license in just a few weeks and start your career in the trucking industry.
Need a refresher? Register for our 40-hour CDL Knowledge Refresher Course.
Vessel & boat
Are you ready to take the next step in your Maritime career? Register today to earn your US Coast Guard Captain's license and move directly into the 100 Ton Upgrade.
Current training
We currently offer the follow maritime and transportation courses through open-enrollment or customized training:
Operator of Uninspected Passenger Vessel (OUPV)
Commercial Drivers License (CDL) training
Contact our customized training team to have a perfectly tailored program created to meet your needs. We provide training at our location or yours, and we schedule classes around your employees' workday.
Contact us
Laura Hanson
Associate Vice President of Corporate Solutions
757-822-1506